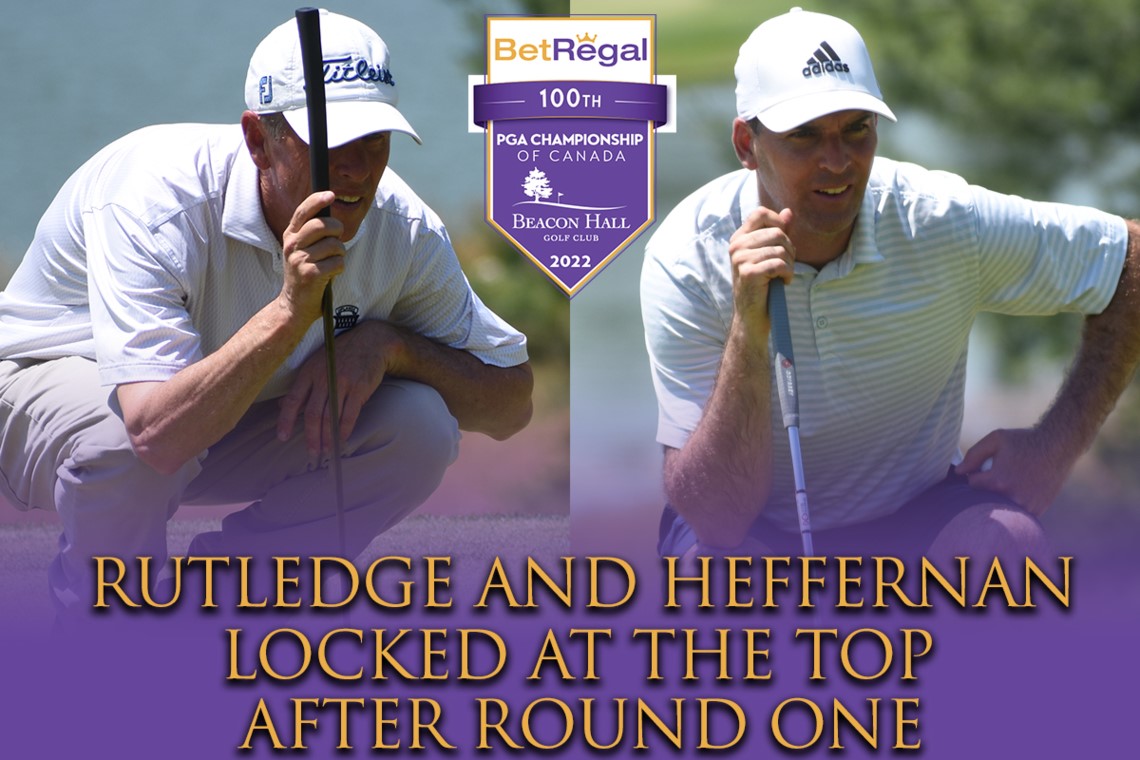 38 years after winning the event, Jim Rutledge again tied atop BetRegal PGA Championship of Canada leaderboard with Wes Heffernan
By: Brendan Stasiewich, PGA of Canada
(Aurora – ON) – Jim Rutledge remembers his 1984 PGA Championship of Canada win fondly. It was that victory that sent him, alongside fellow British Columbia pro Dave Barr, to the World Cup in Italy.
38 years later, at the 100th playing of the BetRegal PGA Championship of Canada, Rutledge's game is just as strong. Managing the difficult Beacon Hall Golf Club in Aurora, Ontario (located just 20-minutes outside Toronto), the 62-year-old tournament professional from Victoria, British Columbia carded a bogey-free 68 to put himself in a tie for the lead with Wes Heffernan.
"I came into the week so excited to play, not just because it's the 100th year of the event, but also because of the golf course, and I'm totally pleased with this start," said Rutledge, who called the 1984 championship win one of the 'biggest milestones' of his career. "I had some good up-and-downs to save myself some pars, made some good birdies, so it was a good day overall."
The full leaderboard can be seen here.
Rutledge's resume of golf success gets longer by the year; and it appears we are still far away from the final draft. Last year, Rutledge picked up the Super Senior victory at the Senior PGA Championship of Canada (players over the age of 60 are eligible), and nearly won the regular seniors division, as well. He has won the seniors division of the event six times since becoming eligible 12-years ago.
If those six wins were sweet, then winning the 100th BetRegal PGA Championship of Canada would be like taking a bite out of a candy apple coated in Pop Rocks.
"Winning an event like this would be fabulous," Rutledge said with a smile. "You always come in trying to win, it's good seeing some of the guys I've known for years who come play, and that's one of the best parts, but I'm going to take the golf one day at a time and one shot at a time and we'll see."
Meanwhile, tied with Rutledge atop the leaderboard is Wes Heffernan, the number-one ranked player on the PGA Player Rankings.
Heffernan, who just competed in the RBC PGA Canadian Open a few weeks ago based on his Player Ranking, made five birdies, offset by just one bogey, to also fire an opening-round 68.
"It was kind of the perfect opening round," said Heffernan, who won the 2019 PGA Assistants' Championship of Canada. "I didn't get in any trouble and every miss I had was manageable."
"Six through 12 is where you have to score on this course and then you have to manage your game on either end because there are tough holes to start and to finish. I made some longer putts and didn't miss anything I should have made, so it was a low-stress round," said Heffernan.
While Heffernan's ball-striking was on point at the RBC Canadian Open earlier this month, his putting left much to be desired. A few weeks later now at Beacon Hall, the comfort level has returned and the Calgarian was able to roll in a few putts from distance on Tuesday.
"Playing the RBC (Canadian Open) definitely helped. St. George's greens were a little bit sloppier, which made the putting tough, but made me comfortable for a course like today," said Heffernan "And also the pressure of playing in the Canadian Open definitely helps. It got me more comfortable for today, for sure."
Looking to become the first player to defend their BetRegal PGA Championship of Canada victory since George Knudson in 1977, Riley Fleming's card was blemish free and it looked like he would have the round of the day until he was derailed by a triple-bogey on the 17th hole.
Despite the late error, Fleming made par on his last hole to head into the second round in third place, just one-stroke back of the lead.
Dave Zibrik, without playing a practice round, managed to fire a two-under par 70 to put himself within striking distance, just two strokes back of the leaders. He did so with the help of a caddie supplied by CaddyTime, who has partnered with the PGA of Canada for the event.
Pierre-Alexandre Bedard had the best mid-round run out of any competitor on Tuesday, playing the ninth-through-14th holes 6-under par to battle back from a 39 on the front and fire 70. He is tied with three other players in a tie for fourth at 2-under.
The second round of the 100th BetRegal PGA Championship of Canada gets started tomorrow morning at 7:30 A.M.
Photos from the event can be found on our Flickr page, here.