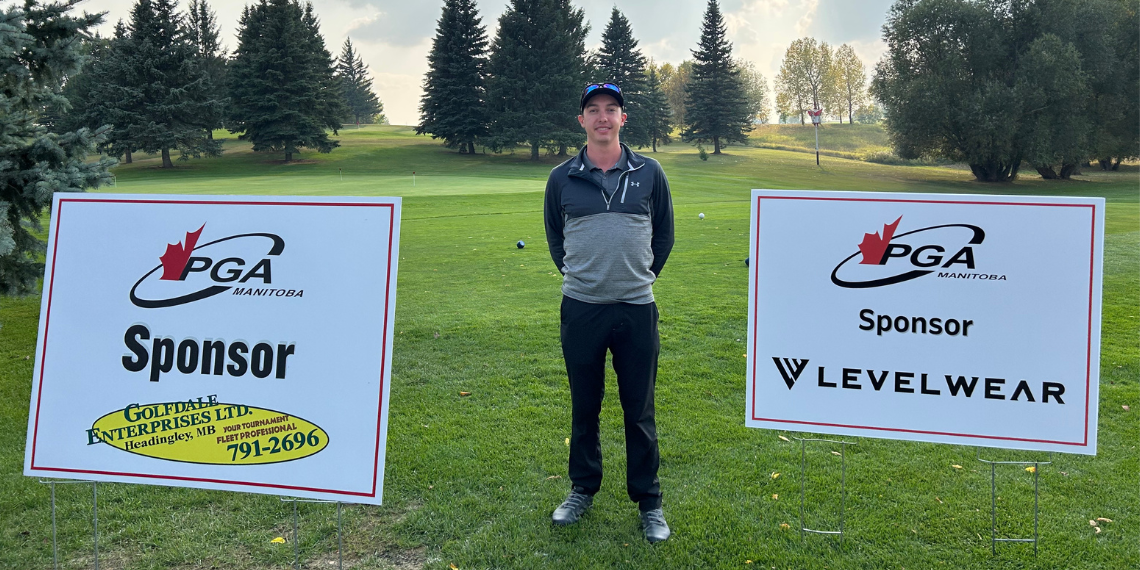 Abgrall Wins PGA of Manitoba Fall Final
The PGA of Manitoba held their final open tournament of the 2023 season today at the Minnedosa Golf & Country Club. Colwyn Abgrall of GOLFTEC claimed the top spot in the individual professional standings, carding a 2 under 70 to earn his second title of the season. He narrowly edged out Austin Dobrescu of Mulligan's, Bret Thompson of Golf Mentor and Dean North of the Carman Golf & Curling Club who all shot 1 under 71. Devon Schade of Larter's rounded out the top five with an even par 72.
In the Pro Am side of the event, Bret Thompson and Minnedosa amateur Jamie Armstrong partnered for a net 11 under par 61 to claim the team title. Local course knowledge was definitely an advantage for the top 2 teams as host pro Patrick Law & amateur Wyatt Rapsky finished in second spot with a net 64. Derrik Goodwin and his dad Ken edged out Jeff Heiland & Carl Lechman on a count back for 3rd place after both teams came in at net 65. Of note was the fact that amateur Carl Lechman fired a gross score of 67 in today's round! Austin Dobrescu & partner Evan Nachtigal rounded out the top 5 on the team side of things.
Once again Gerry Hodson of Hodson Financial was tallying the birdies and eagles made by the PGA members. The 18 pros in the field combined for a total of 54 birdies & 2 eagles for a donation of $1160. The total accumulated donation for the Lynne Ransby & Gerry Hodson Infectious Disease Research Fund (HSC Foundation) now stands at $7280 for the season!
The PGA of Manitoba would like to thank and acknowledge our event sponsors, Levelwear & Golfdale Enterprises. Their ongoing support and assistance is truly appreciated.
Event results can be viewed on the PGA of Manitoba website.
There is one final event remaining on the PGA of Manitoba competitive schedule. The Hodson Financial Senior Championship will take place at Larter's at St. Andrews on Sunday, September 10 & Monday, September 11.