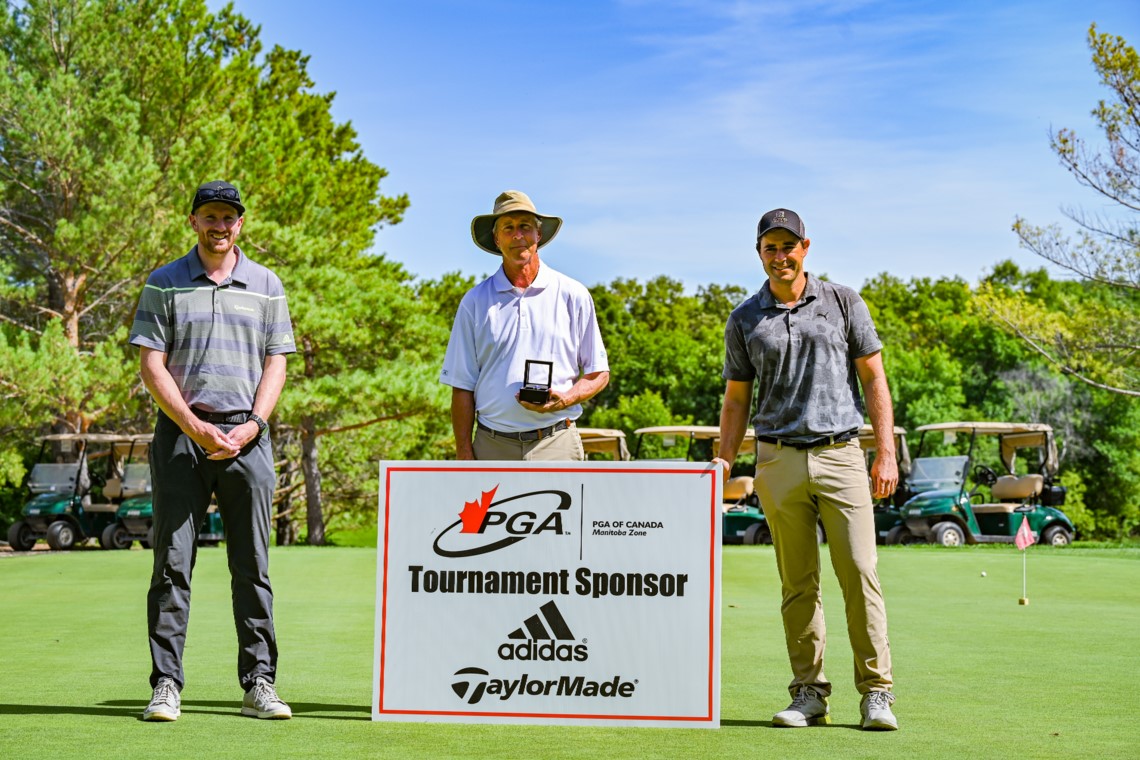 Dave Lavallee Wins the Taylormade Fall PGA Championship!
August 24, 2020 - Congratulations to Dave Lavallee of Bel Acres Golf & Country Club, 2020 TaylorMade Adidas Fall Champion, shooting a (67-77 / 144) and finishing first after a one-hole play-off with Dean North of Carman Golf Club (73-71 / 144). Following tied for third was Jason Ludke of Pine Ridge Golf Club and Mike Marion of Golf TEC, both shooting a two-day score of 145.
Congratulations to the 2020 Assistants Champion Devon Shade of Elmhurst Golf & Country Club with a two-day score of 146 (74-72), followed in second place by Kevin Giesbrecht with a two-day score of 150. Coming in third and fourth respectively was Patrick Perrin of Niakwa Country Club (151) and Bailey Funk of Steinbach Fly-In Golf Club.
Thank you to St. Boniface Golf Club for hosting the event and much thanks and appreciation to TaylorMade Adidas for their continued support of the PGA of Manitoba.
| | | | | | |
| --- | --- | --- | --- | --- | --- |
| | | 2020 Fall Championship | | | |
| | | | Round One | Round Two | FINAL |
| 1st | Dave Lavallee | Bel Acres Golf & Country Club | 67 | 77 | 144 |
| 2nd | Dean North | Carman Golf & Curling Club | 73 | 71 | 144 |
| T3 | Jason Ludke | Pine Ridge Golf Club | 73 | 72 | 145 |
| T3 | Mike Marion | GolfTEC | 73 | 72 | 145 |
| 5th | Devon Shade | Elmhurst Golf & Country Club | 74 | 72 | 146 |
| 6th | Terry Reilly | Niakwa Country Club | 74 | 74 | 148 |
| 7th | Sean Lancaster | GolfTEC | 77 | 72 | 149 |
| 8th | Kevin Giesbrecht | PGA of Canada-Manitoba Zone | 74 | 76 | 150 |
| T9 | Brian Guenther | Steinbach Fly-In Golf Club | 75 | 76 | 151 |
| T9 | Patrick Perrin | Niakwa Country Club | 78 | 73 | 151 |
| T11 | Troy Kapko | Larters at St Andrews Golf & Country Club | 75 | 77 | 152 |
| T11 | Matt Lorenz | Elmhurst Golf & Country Club | 75 | 78 | 153 |
| | | | | | |
| --- | --- | --- | --- | --- | --- |
| | | 2020 ASSISTANTS Championship | | | |
| | | | Round One | Round Two | FINAL |
| 1 | Devon Shade | Elmhurst Golf & Country Club | 74 | 72 | 146 |
| 2 | Kevin Giesbrecht | PGA of Canada-Manitoba Zone | 74 | 76 | 150 |
| 3 | Patrick Perrin | Niakwa Country Club | 78 | 73 | 151 |
| 4 | Bailey Funk | Steinbach Fly-In Golf Club | 76 | 79 | 155 |