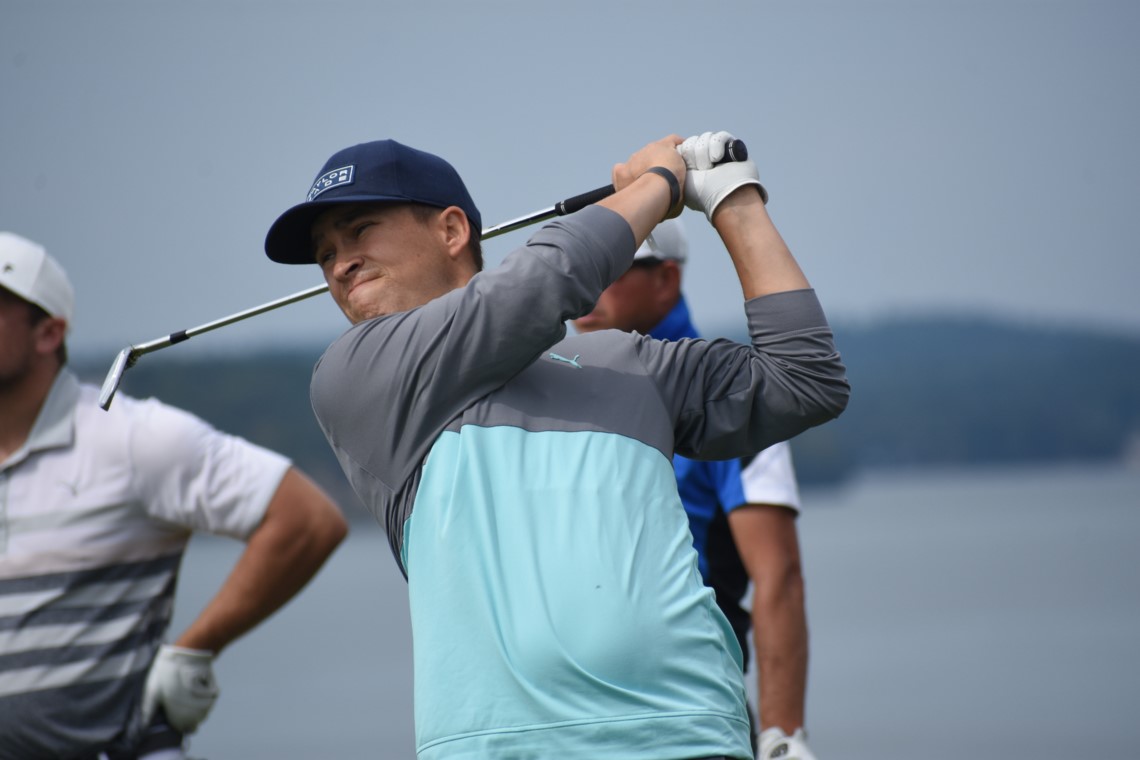 Fox retains lead, Heffernan fires course record and Stinson within one at PGA Assistants' Championship presented by Callaway Golf
Photos from the event can be found here.
By: Brendan Stasiewich, PGA of Canada
(St. Andrews, NB) – Across the Atlantic, back to the Pacific and then back again. It has been some kind of September for Cheam Mountain Golf Course Class 'A' Professional Kevin Stinson.
Between the time his golf bag got lost on his way to South Africa – where he competed in the Four Nations Cup alongside three other PGA of Canada pros - to now, he likely has made more birdies than countries he's flown over (and that's saying something).
During a September of world-travel that would make even Pitbull jet-lagged, the British Columbia native has played some of the best golf of his career (even with a set of rental clubs in Johannesburg), winning the Four Nations Cup and now making 15 birdies through the opening 36 holes in St. Andrews, New Brunswick to pull within one stroke of Mitchell Fox, who leads the PGA Assistants' Championship of Canada presented by Callaway Golf at Algonquin Golf Club.
For the full leaderboard from the second round of the PGA Assistants' Championship of Canada presented by Callaway Golf, click here.
"That's why I'm in the association. To have those experiences to go to South Africa and represent Canada and the PGA of Canada and then shoot back home for a quick pro-am and then come back out east for one of the biggest events," said Stinson, who was the runner up at this event in 2021.
Following up on an eight-birdie 66 on Monday, Stinson was quick out of the gate during the second round, making five birdies in his opening seven holes to take the lead from Mitchell Fox. However, a flurry from Fox late in the round, as he did during the first round, gave Fox the lead right back.
"It felt good today, no bogeys and no holes where I had a chance to make bogey, it was cleaner today and I seem to like those last six holes," said Fox, in reference to the final six holes which he has played 8-under par over the course of the past two days, including an eagle on 17 each round.
"I hit driver and had 270 yards to the pin in the back and had 60 feet and made it from there. A little different from yesterday," laughed Fox, who hit it to a foot on the hole during round one.
The Inter-Zone Championship wrapped up after the second round, with the Alberta squad claiming the event for the second time in as many years – this time by 11 strokes.
The team consisting of: Wes Heffernan, Mitchell Fox, Jared Nicolls and Michael Harrison managed to beat Quebec by 11 strokes.
Along with the leader, Fox, team member Heffernan played a large part in the team's victory, firing a course-record 63 on Tuesday.
"It was one of those rounds where Kevin (Stinson) got off to such a hot start so right away I was five, six or seven behind him," said Heffernan. "I had to get going so I made an eagle on No. 5 and played the par fives six under, which helps things, and I made a few putts coming in, and signing for a 63 is pretty cool."
The final round of the PGA Assistant's Championship of Canada presented by Callaway Golf will begin at 8:30 A.M. on Wednesday morning.