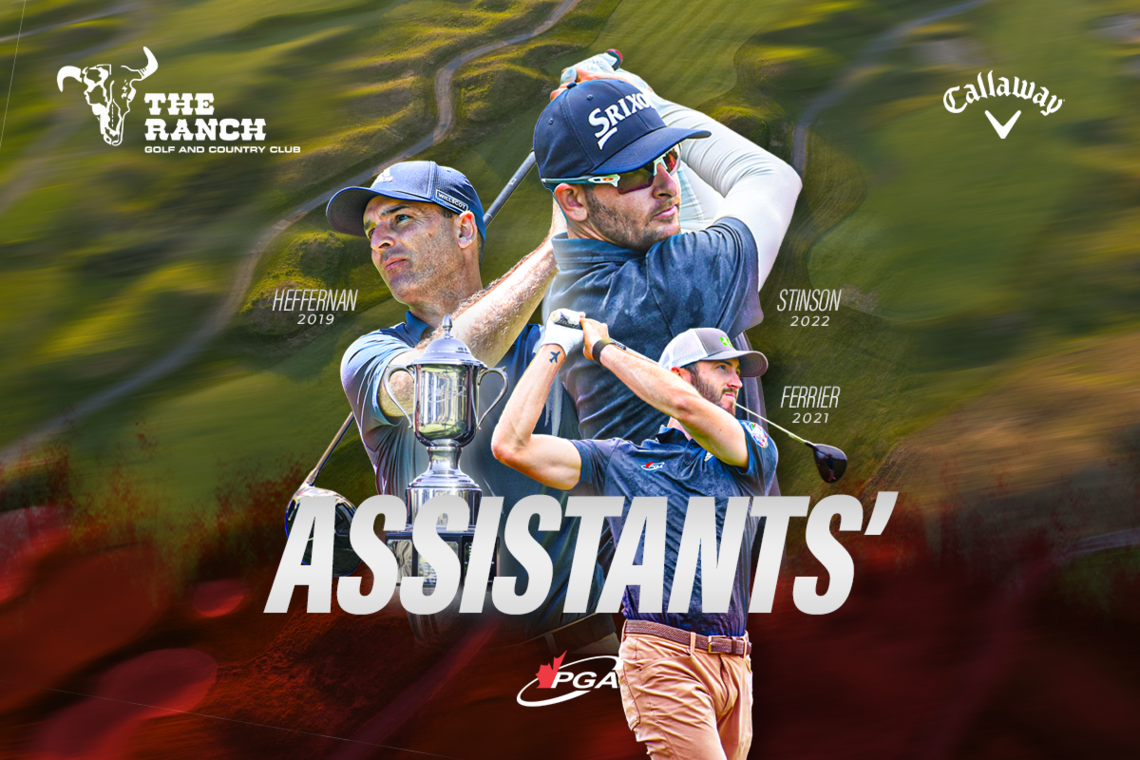 PGA ASSISTANTS' CHAMPIONSHIP OF CANADA PRESENTED BY CALLAWAY GOLF HEADS TO THE RANCH IN EDMONTON, AB
Quick Facts
Event Dates: September 18-21
54-hole individual stroke play (36-hole cut, 60+ties)
Field Size: 111
First Place: $10,000
Course Details: Par 71
Male yardage: 6547 yards
Female yardage: 5626 yards
Previous Champion: Kevin Stinson
The highly anticipated PGA Assistants' Championship of Canada presented by Callaway Golf heads west to Edmonton, AB this week, where 111 of the country's top players look to add to their 2023 resume.
The field size is the largest of any championship this season, with a tournament-high 57 players hailing from Alberta. Players are in for a formidable and fun test at The Ranch Golf & Country Club, which features a mix of scorable holes with challenging par 4s. There will likely be more than a few eagles made this week on the track's four par-5s.
The event has a list of champions that includes some of the most well-respected golf professionals in the country. The full list of past champions can be found here.
Without further ado, here are just a few storylines to keep your eyes on heading into the event, once again supported by the long-time PGA of Canada friends at Callaway Golf:
---
Storylines:
Interzone Championship
The squad from Alberta looks to make it a three-peat at this year's event. With a talented lineup that includes 2022 BetRegal PGA Champion of Canada Wes Heffernan, they will once again have a solid chance at the team title.
While both British Columbia and Quebec pose threats with team leaders Kevin Stinson and Yohann Benson, Ontario's well-rounded squad of Brad Kerfoot, David Li Sheman, James Seymour and Victor Ciesielski may very well be the odds-on favourite.
The InterZone competition concludes after 36 holes and features the following teams:
Alberta:
Michael Harrison
Mitchell Fox
Wes Heffernan
David MacComb
Atlantic:
Connor Shea
Andre Savoie
Josh Landine
Thomas Keddy
British Columbia:
Ethan Danish
Luke Bogdan
Kevin Stinson
Steven Lecuyer
Manitoba:
Bret Thompson
Devon Schade
Jeremy Gallant
Colwyn Abgrall
Ontario:
Brad Kerfoot
David Li Sheman
James Seymour
Victor Ciesielski
Quebec:
Ryan Galbraith
Dom Lalonde
William Blanchard
Yohann Benson
Stinson Slam?
Cheam Mountain's Kevin Stinson looks to accomplish a feat no player has done in PGA of Canada history this week; defend a PGA of Canada Assistants' title with a win at the BetRegal PGA Championship of Canada sandwiched in between.
Currently the top player on the PGA of Canada Player Rankings presented by ECCO Golf, Stinson followed up his win at our flagship event with a 3rd and 5th place finish at a pair of BC Zone events earlier this summer.
RBC Canadian Open exemption on the line
At the end of the year, the top player on the PGA of Canada Players Rankings presented by ECCO Golf (which takes into account results from the past three year's National Championships and select Zone events) will earn an exemption into the RBC Canadian Open.
With only 13 points separating our leader Stinson from second-place Heffernan, and only 19 points separating Stinson from Yohann Benson, this week will play a big part in determining who will tee it up at Hamilton Golf & Country Club next year.
Current rankings can be found here
Three women competing this week
Katy Rutherford, Elizabeth Carr and Gina Nelson are all teeing it up this week, competing for the PGA Assistants' Championship of Canada presented by Callaway Golf title.
Rutherford was the co-low PGA of Canada professional at the ORORO PGA Women's Championship of Canada (won by Alena Sharp) earlier this summer. The Championship team will set up a separate tee deck for female competitors, approximately 85-88% of the distance of male competitors, all competing in the same competition. Christine Wong finished in the top third of the field in this event in 2021 in Calgary, finishing T32.
More info about the championship can be found on the Tournament website.
Be sure to follow us on Instagram and the social media site formerly known as Twitter for updates and highlights throughout the event.