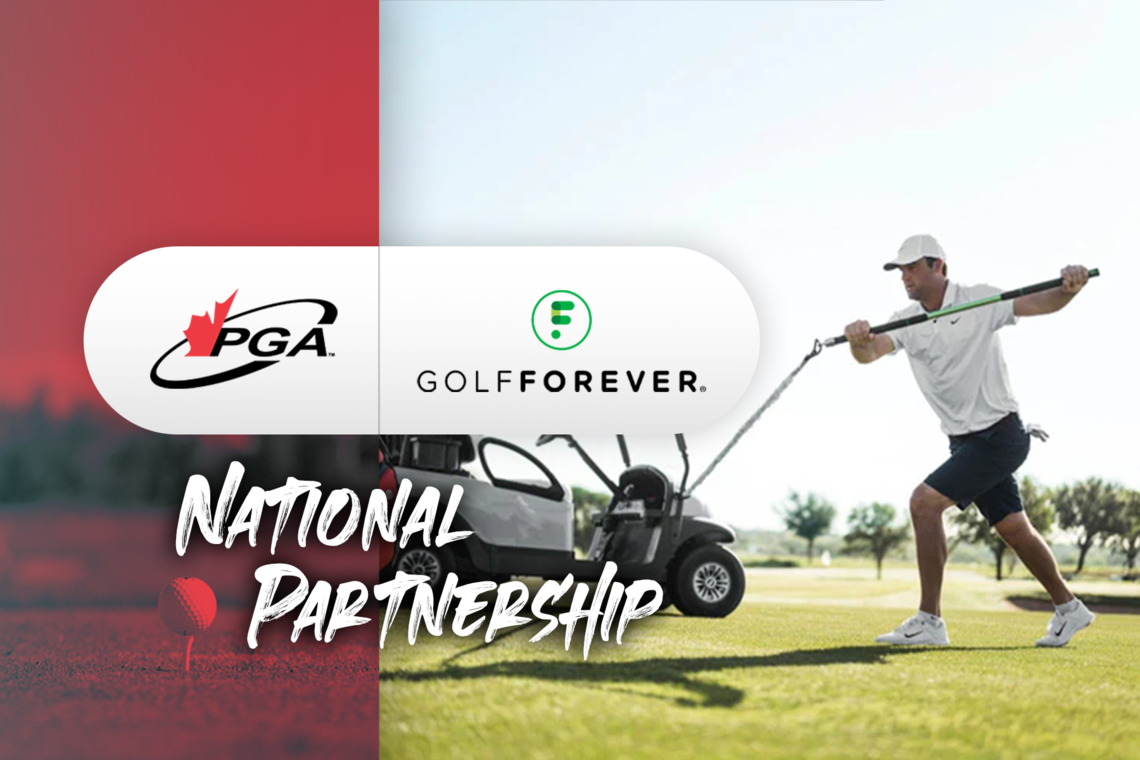 PGA of Canada Adds GolfForever as National Partner
The PGA of Canada is pleased to announce a new national partnership with GolfForever, an industry leading golf fitness brand, that will feature activations at a number of PGA of Canada events, including the BetRegal PGA Championship of Canada and Tee Talks Live.
member offers here.
For more information, visit
GolfForever.com.
About GolfForever
GolfForever is a comprehensive, smart at-home training system that takes a science-based approach to maximizing golfers' performance by improving flexibility, core strength, balance and rotational power. The first golf-specific home training program to embrace the approach of home exercise equipment paired with streaming instruction, GolfForever takes it one step further by customizing each golfer's exercise routines just for them, based on a proprietary strength and flexibility test users take when starting. The result is a product and program that is safe and highly effective for any golfer. With exercise routines designed by some of the top PGA Tour trainers and orthopedic experts in the U.S., GolfForever users can expect to swing and perform their best – with a pain-free body – for as long as they play the game. It is used by more than 200 PGA Tour and LPGA Tour players, and thousands of everyday golfers alike. Founded in Aspen, Colorado in 2019 by Dr. Jeremy James, a leading specialist in chronic back pain and co-author of the Younger Next Year Back Book, GolfForever is the ideal companion to expert golf instruction. For more information go to GolfForever.com or download the new mobile application on the Apple Store for IOS or Google Play for Android.
About PGA of Canada
Established in 1911, the PGA of Canada is the second oldest and third largest professional golf association in the world. The PGA of Canada is a non-profit association comprised of nearly 3,600 golf professionals across the country. The association's mandate is to develop, promote and support its members in living a better life and earning a better living while growing participation, excellence and passion for the sport of golf. The association consists of the national office located in Acton, Ont., and nine Zone Offices across the country. For more information, please visit
https://www.pgaofcanada.com/
.
GolfForever is the first golf-specific training program to embrace the approach of home exercise equipment paired with streaming instruction that customizes each golfer's exercise routines specifically for them, based on a proprietary strength and flexibility test. It is currently used by over 200 touring professionals, including 2021-22 PGA Tour player of the Year and World No. 1, Scottie Scheffler. "We are thrilled to partner with GolfForever, one of the great innovators in the golf fitness space," said PGA of Canada CEO Kevin Thistle. "Amateur and professional golfers alike have begun to focus more on fitness to improve their golf games, and we are pleased to give our members the opportunity to access GolfForever equipment for themselves or to incorporate into their teaching to promote a healthy lifestyle and, in turn, improved results on the golf course." GolfForever will be showcased as a supporting partner of the BetRegal PGA Championship of Canada June 11-14 at Bigwin Island, activating the brand's first-of-its kind Warmup Station to demonstrate the GolfForever Training System and warm up players during the practice round and throughout the week. "The passion and commitment of Canadian golfers and PGA of Canada professionals is a perfect match with the mission and benefits of GolfForever," said GolfForever VP of Communications and Strategic Partnerships, Jon Levy. "It's exciting and a great honour to partner with the PGA of Canada, and we look forward to a successful relationship ahead." "The PGA of Canada is an amazing organization that I've respected throughout my entire career, which is why this partnership personally brings me a lot of pride. GolfForever will make a tremendous impact, not only on the membership, but also on Canadian golfers everywhere," added GolfForever's Director of Performance Dr. Troy Van Biezen, originally from Alberta and performance coach to Scottie Scheffler, Jordan Spieth, Zach Johnson and many other world-class players GolfForever will provide opportunity for members to learn more about how to utilize the product through webinars on the PGA of Canada Professional Development portal, and at Tee Talks Live December 1-3 in Ottawa, where they will be a supporting partner and feature a guest breakout speaker. Members will be able to purchase GolfForever products online for their clients, and there will also be multiple opportunities for members to win product throughout the year at various events. Check out GolfForever's exclusive PGA of Canada