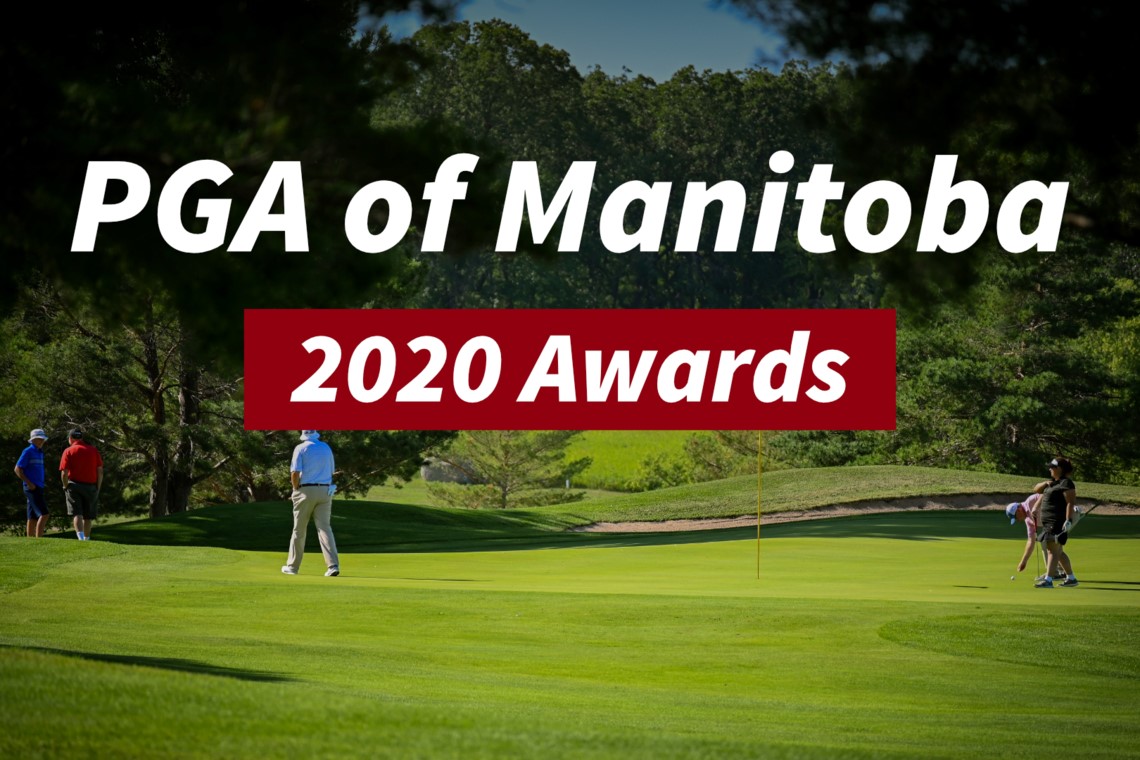 PGA of Manitoba Award Winners!
I would like to begin by stating the obvious…. what an unusual year this has turned out to be! The PGA of Manitoba Board of Directors and myself would like to thank you for adapting to changes with tournaments, the Buying Show and now how we conducted our Awards for 2020.
Before we get into the 2020 PGA of Manitoba Awards, I would like to highlight some of this 2020 season:
We held three well attended championship tournaments and introduced a Seniors Championship in September.

A big thank you once again to Pat Carpenter & Terri Dueck for their invaluable help at all our tournaments, and to Gord Hudson & Don MacDonald for taking the time from their schedules to be our Rules Officials.

We moved from an On-Site Buying Show to a Manitoba Buying Group. We very much appreciate the support of our members and our friends & suppliers. We are including the list of those suppliers at the bottom of this letter and would appreciate your continued support of those supporting us.

The PGA of Manitoba, through tournaments, has donated over $300 from skins to the Future Pros Program.

Birdies for Bacteria and Gerry Hodson have once again made an generous contribution to the Health Science Infectious Diseases on behalf of the PGA of Manitoba. A big thank you to Gerry Hodson, who is always a great supporter of the Manitoba Zone.
Thank you, Gerry, for your support and commitment to the Manitoba Zone – it is truly appreciated by our members.
The 2020 PGA of Manitoba Awards Selection Committee once again mentioned the difficult job they had with finding the one recipient for each award. They were extremely impressed by those who submitted their nominations.
A big thank you and much appreciation to Gord Hudson, Don MacDonald, Carol Martel and Ken Wiebe for their time and considerations on the PGA of Manitoba Awards.
Congratulations to all 2020 Awards Recipients and Nominees.
Stay safe and keep well this winter and we look forward to seeing you in 2021!
Kris Ehnes
President
PGA of Manitoba
2020 PGA of Manitoba Award Winners:
Andrew Steep - Club Professional of the Year
Derrik Goodwin - Teacher of the Year
Derrik Goodwin - Junior Leader of the Year
Derrik Goodwin - Class A Member of the Year
Derrik Goodwin - Professional Development Award
Bri-ann Tokariwski - Apprentice of the Year
Derek Ingram - Coach of the Year
Wade Nybakken - Executive Professional
Kris Ehnes & Breezy Bend Pro Shop - Retailer of the Year