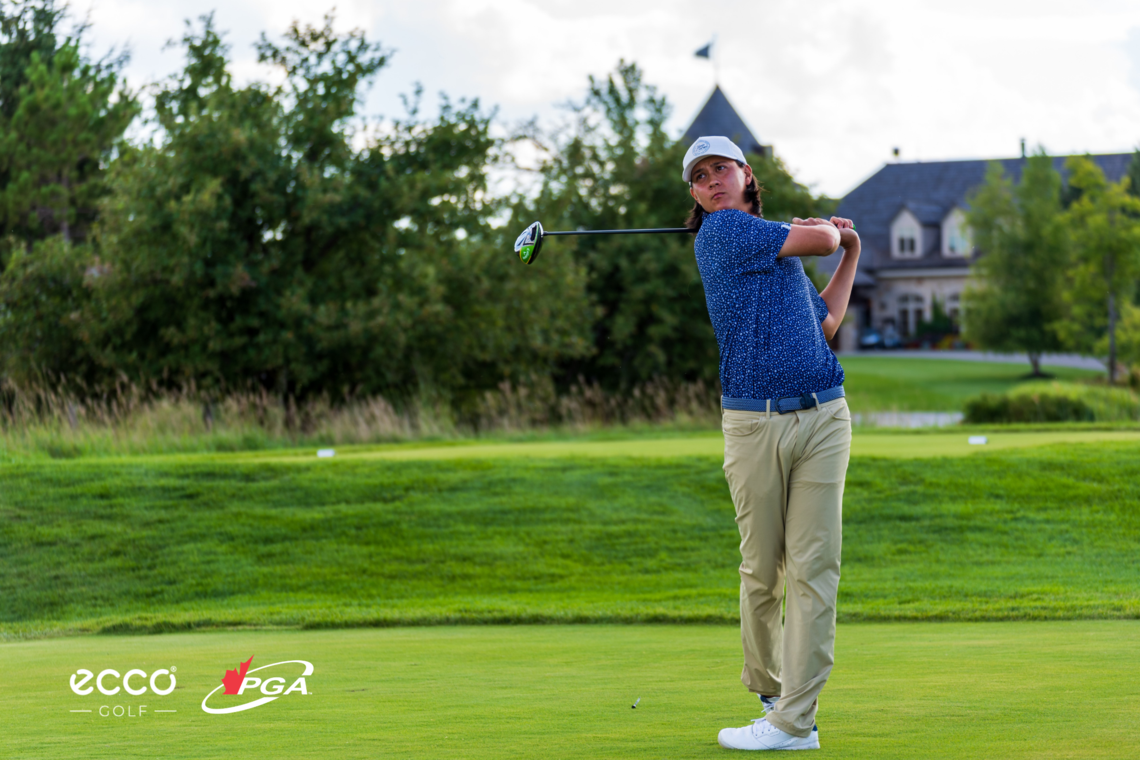 Thanks For Stepping Up | Dylan Cattanach
By Jason Logan
Jaime Steedman, a 12-year member of the PGA of Canada and currently the head teaching professional at the Ladies Golf Club of Toronto, has a long list of glowing adjectives at the ready to describe Dylan Cattanach.
Giving. Caring. Genuine. Pivotal. Amazing. Incredible. Refreshing.
"He's just a guy who could be stretched to the absolute breaking point of his time and would give you everything he has," Steedman says of the 26-year-old Cattanach, who grew up as a junior member across the street at The Thornhill Club and whose only ever place of employment has been Toronto Ladies, where he's gone from the back shop to lead associate professional with a lot of other jobs in between during his nine years there.
Knowing him the way she does, then, and having seen him mature over the years, is why a) none of the extra effort Cattanach put in during this season of COVID surprised Steedman; and b) he immediately came to mind when the PGA's ECCO #ThanksForSteppingUp campaign was announced.
"He pours his heart and soul into everything he does," she says. "When I saw this opportunity arise to shine a little spotlight on the incredible things he's been doing I just thought it would be a perfect opportunity for someone like him to get the recognition and acknowledgement for everything he does."
It started in the springtime, when Toronto Ladies launched a grocery service for members during Ontario's first lockdown, which coincided with clubhouse manager Romualdo Mendoza's wife giving birth. Cattanach volunteered to help out however he could to give Mendoza more time at home and soon found himself in charge of scheduling. He co-ordinated member orders with the club's executive chef, developed a spreadsheet to smooth out the process, and led a welcoming committee for members when they arrived to pick up food for an operation that ultimately ran seven weeks.
Next, Cattanach offered his services to the short-staffed grounds crew, hopping on a mower and cutting fairways for a week, a job he had done in the past. So that meant mornings with the turf department, followed by helping out in the back shop, then the grocery service on top of his plentiful pro shop duties. Cattanach also challenged himself to step up his own service level. That meant being more visible, availing himself to members, and making sure everyone at the club was having the best day possible.
"When he asks about your day or a member's day, or about an individual he's interacted with, maybe they are a guest of the club and he's met them for 10 minutes, when they come in afterwards and he asks how the round was he genuinely wants to know how the round was," says Steedman.
Offered Cattanach, a fifth-generation Queen's University graduate who studied economics but fell hard for the golf and hospitality industry while at Ladies, "If I can make one person happy every day and go above and beyond then I'm happy and that motivates me right there."
The extra effort Cattanach put forth didn't end with his club duties, either. Together with Mike Johnston, an associate professional at Cedar Brae Golf and Country Club, he co-founded the Associates of Toronto (AoT), an initiative to bring assistant and associate golf pros together to meet, chat, share best practices and expand their personal networks. Cattanach and Johnston devised the idea at the 2020 PGA Merchandise Show in Orlando, Fla., recognizing that while head professionals who are longtime PGA members have a lengthy list of peers to consult, associates, especially those who aren't fortunate enough to attend industry events every year, could use some help in expanding their Rolodex. What started as a Greater Toronto Area association has grown to include members across the country and the long-term plan is to develop provincial chapters. The AoT, for example, has been sanctioned by the PGA of Ontario.
On top of all this, Cattanach fulfilled a philanthropic endeavour this summer by giving $2,700 of his own money to the Markham Stouffville Hospital in memory of his late grandmother, who was instrumental in his introduction to golf at Thornhill. Cattanach's grandparents were sideswiped in a traffic accident in 2019 and his grandmother died tragically from injuries she sustained. For a week in September — around his grandmother's birthday — Cattanach donated $1 for every round played at Toronto Ladies plus $100 for any birdie and $250 for any eagle that he and a friend made during their own games that week.
"It was a ton of money but I was super excited and pumped when I found out the number I was going to give," Cattanach says. "I was ecstatic and it is something I'm not going to regret."
Asked to whom or to what he attributes his tremendous drive, Cattanach immediately pointed to his grandfather and father, both lawyers. His grandfather, in his mid-90s, was slowed by the accident but still went into the office three half-days a week before that, and, Cattanach notes, is now "getting a little bit more energy and finishing up some files."

"I've learned that hard work pays off in the end," Cattanach says. "If you put in the hours and show that you care about the job it will lead to better things in life. That's something I really take pride in. I'm not here to do the bare minimum, I'm trying to get to the next level and become better as a pro and become better from a service standpoint for the club."