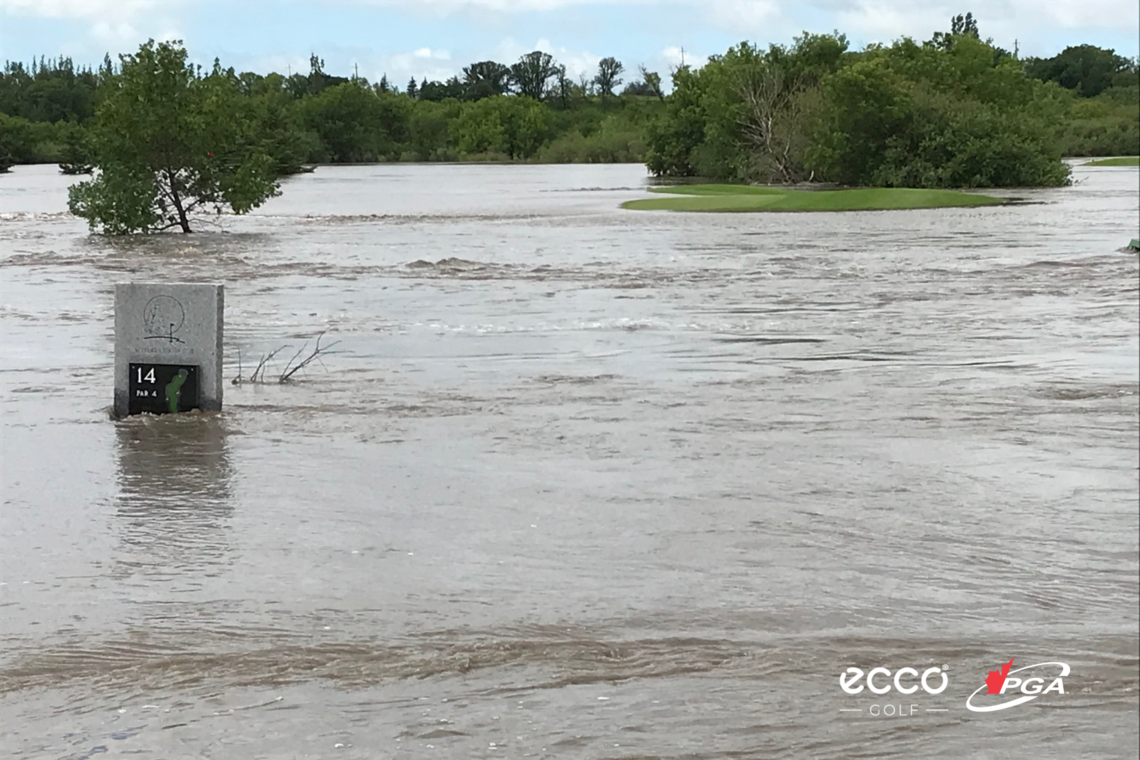 Thanks For Stepping Up | Landon Cameron
This article is part of the PGA of Canada's #ThanksForSteppingUp campaign conducted in partnership with ECCO. Members were asked to nominate a fellow professional for going above and beyond this season for the chance to win 1 of 18 pairs of ECCO shoes. Over 250 nominations detailing how PGA of Canada members 'stepped up' to the challenges of 2020 were received over a two-week period.
By Jason Logan
On a frigid late November morning in Neepawa, Man., Landon Cameron was bundled up and outside flooding his backyard to build a rink for his two hockey-obsessed kids. With his sons in school, his wife at work, and his place of business closed for the season, Cameron welcomed the fresh air and focus. Plus, with the entire province under a Code Red health alert due to a nationwide-high COVID-19 positivity rate, the rink will serve a bigger purpose than extra practice; it might very well be the only ice time his boys see this winter. Best to get at it right away then, even if "flooding" is the last word Cameron wants on his tongue these days.
The 11th-year head professional and general manager of the semi-private and member-owned Neepawa Golf and Country Club spent the spring like all others in the business: implementing social distancing protocols so that his course could operate safely and provide people a respite amid the pandemic. His wife, Tara, had it tougher. She's the head nurse at the local hospital, part of a team trying to keep the deadly disease at bay. When the golf season did get underway it went swimmingly. Like clubs around the world, Neepawa's tee sheet was gorged with golfers, some of them newcomers with teams sports scuttled. Then July 1 rolled around — an annual date of celebration that was anything but for Neepawa in 2020.
On his way to work that day, area farmers alerted Cameron, a native of Boissevain, Man., that the Whitemud River that snakes its way through the golf course had crested near their fields. That isn't an entirely uncommon occurrence, and the club had experienced floods before, but it's more normal in springtime. When he arrived on property Cameron and his superintendent surveyed the grounds. Almost immediately they knew they'd have to close the lower-lying front nine. Not long after they found themselves rescuing a group he'd sent off the 10th tee — in a flash, most of the course was submerged.
"You could only see two greens on the entire golf course," Cameron described.
By 4 p.m. the Town of Neepawa had declared a state of emergency, though the danger was isolated to the east side of the community. The next morning, however, brought more catastrophe. The dam on Park Lake burst and the water from Neepawa's reservoir emptied. Cameron was helping to sandbag a friend's home when that happened and he described the rushing water as sounding like the whoosh of a passing train. Then he learned that his own house was in peril and upon arriving home some 20 minutes later he found it overtaken by the deluge. That, though, was not the most shocking site.
"There was a line of people all the way to the street helping," Cameron said. "There must have been 100 people, people who were high and dry, and our house was completely sandbagged within an hour. There were people there with sump pumps in our basement. A farmer pulled a sump pump from his own basement and brought it over so we could have two pumps. I didn't even know some of the people."
His golf course flooded, his house flooded, his wife a fatigued frontline worker and his children scared, Cameron said what helped them through it all was the strong sense of community. Just as folks helped get things under control at his house — and as he did for others — the membership and relative skeletal crew at Neepawa G&CC pulled together. Countless hours were required, with Cameron getting his hands dirty and his eyes heavy under the charge of superintendent Mark Kerkowich. The course was closed for two weeks with some two feet of silt left in the water's wake. The back nine reopened first and the front nine — modified in places — by Labour Day weekend. Members dropped off boxes of donuts and other refreshments for those in the mud and Cameron said there wasn't a word of complaint or look of impatience from any of them. Other clubs in the area rallied around Neepawa and offered its golfers drastically reduced rates.
Deb Pritchard moved to Portage Golf Club three years ago but previous to that was the longtime head professional and general manager of Minnedosa Golf and Country Club, 20 minutes from Neepawa on the Little Saskatchewan River. She dealt with floods there simultaneous to Cameron at Neepawa over the years and has witnessed his resolve first-hand.
"The dedication and the resilience that he has shown this season in dealing not only with the challenges of COVID protocols and operational changes, but also extensive flooding of both the golf course and his home, demonstrate his ability to persevere in the face of significant adversity," Pritchard stated.

Cameron acknowledged Pritchard's friendship and support among many over the last five months specifically and also gave credit to his vendors. It was obviously not a banner season for sales with the pandemic and flood double trouble, which meant a lot of leftover inventory that was returned without charge or fuss.
As for 2021, Cameron stopped short of saying he felt the club was owed better fortune. What he continued to show instead was the spirit that's helped him through this toughest of summers.
"We rode it and we're going to come out stronger," he said.