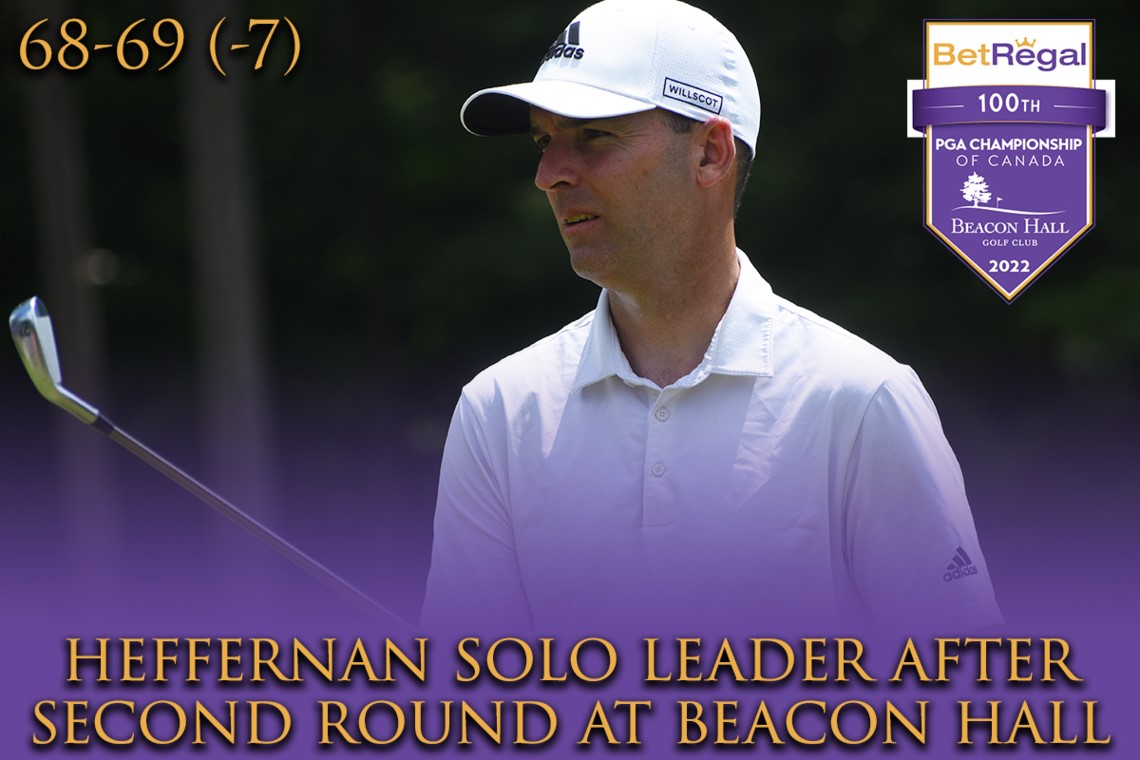 Wes Heffernan in Control at Beacon Hall Golf Club, Leads by two after second round of BetRegal PGA Championship of Canada
By: Brendan Stasiewich, PGA of Canada
(Aurora – ON) – If you like ball-strikers and smooth golf swings, you're going to love the leaderboard at Beacon Hall Golf Club through 36 holes of the 100th playing of the BetRegal PGA Championship of Canada.
Fresh off his RBC Canadian Open exemption, Wes Heffernan, the top ranked player on the PGA Player Rankings, broke 70 for the second consecutive day, firing a 3-under par 69 to put himself two strokes ahead of Jim Rutledge and Gord Burns.
The full leaderboard can be seen here.
While late in yesterday's round players were forced to battle the wind, today it was near unprecedented heat and humidity. Players were reaching for as much BioSteel as they could as the 'feels like' reached 40-degrees Celsius at Beacon Hall Golf Club.
"I had to put my rain gloves on because I was sweating so much," said Heffernan. "I struggled in the middle of the round and had two loose shots, one my hands slipped and the other I just wasn't mentally feeling comfortable."
For the second-consecutive day, Heffernan, who is seeking the first PGA Championship of Canada victory of his career, played the back nine bogey free, once again playing the back side in just 33 strokes.
"I righted the ship to start the back nine, and even though I missed a few short ones that could have made it even better, I hit my lines and played just as solid as yesterday," said the 2019 PGA Assistants' Champion of Canada. "I feel like if I play well, I can always be in the mix, so to play solid and be leading is where I want to be and hopefully that's where I can be the rest of the tournament."
Heffernan's only blunder of the day came on the par-4 sixth hole when he recorded a double bogey, but birdies on Nos. 9, 14, 15 and then what he called a 'bonus' birdie after holing a difficult putt up a slope on 18 got him in the clubhouse in 69 strokes.
Playing alongside Heffernan on Wednesday was 2019 Head Professional of Canada champ Gordon Burns. Perhaps inspired by Heffernan's first-round 68, Burns turned in one better, making eagle on the 15th hole on his way to a tournament-best 67.
"It was tough out there today and I was just trying to make pars and, if I hit a good shot, have a look at birdie and it worked out since I didn't have a bogey until 18," said Burns. "I was quite thrilled with the round, actually."
"That was a timely eagle. I dug deep and tried swinging as hard as Wes does – he doesn't even look like he's swinging hard and he's swinging it 120 (MPH) – I got it to a spot where I could hit 6-iron and hit it to 10 feet and made it. Maybe my one hard swing of the day," Burns continued with a laugh.
With his 67 coming a day after an even-par 72, Burns heads into the final 36 holes in a tie for second place alongside Jim Rutledge, who managed a 1-under par 71 on Wednesday.
Heffernan, Burns and Rutledge will be the final group of the day for round three. Following the third round the field will be cut to the low 70 players and ties. Third round tee times once again begin at 7:30 AM.
All tournament information, including Thursday's pairings, can be seen here.
Photos from the event can be found on our Flickr page, here.